Current Listings

The Spexarth Building
818 Commercial St., Astoria, OR 97103
Price:
SOLD!
Building Size:
20,000 SF
Price S/F:
$105.00
Property Type:
Office
Property Sub-type:
Office Building
Property Use Type:
Investment
Commission Split:
2%
Cap Rate:
8%
Occupancy:
95%
Building Class:
B
Tenancy:
Multiple
Lot Size:
12,000 SF
Listing ID:
18485384
Listing Agent:
Peter Tadei
503.325.3400
Description

The Spexarth Building bears significance as one of the earliest multi-story reinforced concrete buildings in the northwest- it ws built "like a Fort!" Home to a variety of professionals the building is newly renovated throughout. Perimeter spaces have terrific views of downtown Astoria, the Columbia River, and historic buildings such as Flavel House, Clatsop County Courthouse and US Post Office. In 2008 Astoria's Historic Landmarks Commission awarded the Spexarth Building its Dr. Edward Harvey Award for Historic Preservation.

The building has approximately 20,000 SF in four stories plus a usable basement. There is some parking on site and much more on-street parking. Within two blocks are three parking lots with leased spaces. Engineers have previously approved the building for additional floors, which could even house condominiums. There is a possibility for some seller financing and rent guarantees.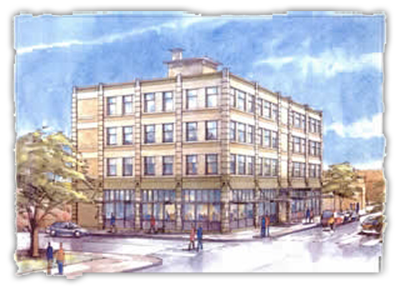 The Spexarth is located in the heart of Astoria' s historic business, shopping and entertainment district. Situated at the entrance to downtown Astoria on the main road leading through the city, and adjacent to the area's main governmental offices. Astoria has a rather choice location along the shores of the Columbia River, right where it spills into the Pacific Ocean at the state line between Oregon and Washington. Built on steep wooded hillsides the river mouth is alive with barking sea lions, great blue herons, eagles, and an endless parade of maritime traffic. Its architecture is dominated by hundreds of Victorian homes clinging to steep wooded hillsides. The revitalized 1920s theme downtown is set against this backdrop of tremendous natural beauty in the temperate rain forest. Astoria has several first-class attractions including the Columbia River Maritime Museum, Astoria Column, Flavel House, Astoria Riverfront Trolley and a 5 mile Riverwalk. The area has an extraordinary sense of place and feeling of history, while the people are genuine, friendly and inviting.




Click Here to view map.