Clatsop County Demographics

Warrenton / Astoria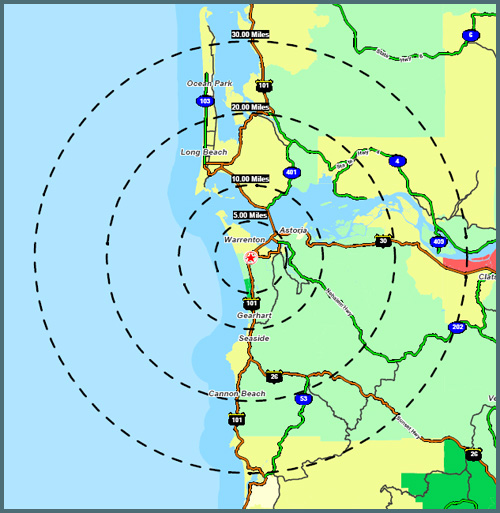 Current Year Estimated Median Household Income
January 2008

Median HH Income by Block Groups


| | |
| --- | --- |
| | $75,000 or more |
| | $60,000 to $75,000 |
| | $45,000 to $60,000 |
| | $30,000 to $45,000 |
| | Less than $30,000 or more |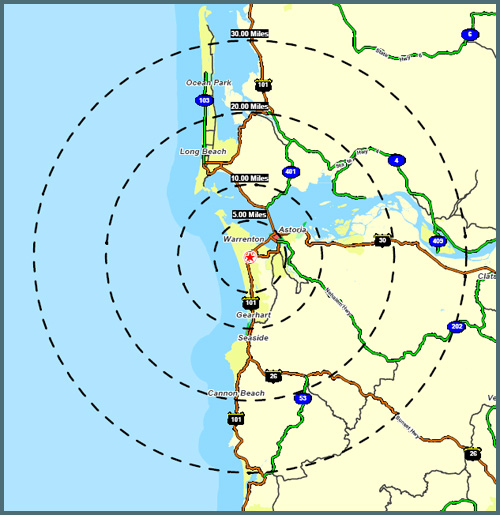 Current Year Estimated Persons per Square Mile
January 2008

Population Density by Block Groups


| | |
| --- | --- |
| | 2,500 or more |
| | 1,000 to 2,500 |
| | 500 to 1,000 |
| | 50 to 500 |
| | Less than 50 |
Clatsop County Demographics and General Overview
Demographgics
Clatsop County Population
Area
1970
1980
1990
2000
2004
Clatsop County
28,473
32,489
33,301
35,630
36,400
Astoria
10,244
9,998
10,069
9,813
9,880
Seaside
4,402
5,193
5,359
5,900
6,080
Warrenton
1,825
2,495
2,681
4,096
4,330
Gearhart
829
967
1,027
995
1,040
Cannon Beach
779
1,187
1,221
1,588
1,650
Hammond
500
516
589
(see note)
Sources: US Census Bureau, Census 2000 (May 2001); 1990 US Census (for 1970, 1980 and 1990 figures); * Certified Estimates, July 1, 2004, Population Research Center, Portland State University.

Note: Hammond merged with Warrenton in 1991.
Clatsop County Population Projections 2000 - 2020
Area
2000
2005
2010
2015
2020
Clatsop County
35,630
36,919
38,376
40,018
41,788
Astoria
9.813
10,152
10,649
11,205
11,826
Seaside
5,900
6,206
6,546
6,927
7,337
Warrenton
4,096
4,426
4,813
5,278
5,741
Gearhart
995
1,107
1,151
1,200
1,254
Cannon Beach
1,588
1,642
1,707
1,780
1,859
Sources: County projection from the Office of Economic Analysis, Department of Administrative Services, State of Oregon.

US Census Bureau, Census 2000: Clatsop County

Ethnic Makeup*:
White: 93.1%
Hispanic or Latino (any race): 4.5%
Other: 4.5%*

Gender**:
Male: 49.27%
Female: 50.73%

*Totals do not add due to rounding and reporting anomalies.
**Certified Annual Oregon Population Report and Supplement, July 1, 2003, Population Research Center, Portland State University.

Economy

Income Levels - Clatsop County's economy relies on government-related activity, service businesses, retail sales, forestry, forest products processing, fishing and seafood processing, and tourism.

As the region's economy experiences growth in service industries, the region's income has fallen significantly below that of both the state and the nation, despite general growth in the economy.


2002 Per Capita Income
Clatsop County: $25,196 (13th of Oregon's 36 counties)
Portland Metropolitan Service Area: $32,167 (third highest in state)
Oregon 2003: $29,340
United States 2003: $31,632


Source: Oregon Employment Department

Industry - Like other Northwest coastal resource-based communities, Clatsop County is working to diversify its economy to offset the loss of family-wage jobs in the timber and fishing industries. Today major employers include Georgia Pacific, Columbia Memorial Hospital, Providence Seaside Hospital, Management Training Corporation, State of Oregon, U.S. Coast Guard, Fred Meyer, Safeway, Steve Martin Management (visitor accommodations), Clatsop County government, and the Astoria School District.

Labor Market

Availability - The labor market consists primarily of Clatsop (Oregon) and Pacific (Washington) counties. Using 2004 data from the Oregon Employment Department, Clatsop County's civilian labor force was 18,823. Pacific County's 2003 population estimate, based on 2000 US Census, is 20,900. The combined labor pool is 27,933 (Clatsop County, 18,823; Pacific County, 9,110).

The 2004 annual average unemployment rate in Clatsop County was 6.9%, below Oregon's 7.4% and the Portland Metropolitan Service area's 7.2% and above the nation's 5.5%. The current county unemployment rate is 7.0% (raw February 2005), and the state's is 7.5% (raw February 2005). Pacific County's November 2003 unemployment rate was 8.5%.

Wage Rates - Clatsop County salaries on average are lower than salaries in the Metro area for comparable work. The Oregon Employment Department job order wage report shows the mean hourly wage for job openings listed at the North Coast region between October 1, 2002, and September 30, 2003, was $12.50 per hour. This figure, however, is artificially high, due to the recent $250 million expansion at the Georgia-Pacific Wauna Mill and the subsequent unusual listing of more than 150 high-wage mill jobs. The mean for the previous year, $9.33 per hour, is more in line with normal hourly wages for job openings in the North Coast region.

The 2003 average covered wage was $26,814.

Continuing Education

Clatsop Community College offers a comprehensive community college curriculum. The College's Community Education Division works with area employers, business, government and industry to develop and deliver customized employee training.

The college hosts cooperative Bachelors' degree programs with Linfield College, Oregon Health Sciences University, Oregon State University, Western Oregon University and others. The college awards an Associate in Arts-Oregon Transfer degree, Associate in Applied Sciences, Associate in General Studies and certificates in one-year Professional Technical and Computer Information Systems programs.

Curriculum includes arts and letters, social sciences and math and sciences, as well as a variety of professional-technical programs in occupations such as nursing, marine technology, criminal justice, integrated technology (welding, machine tools, electronics, automotive technology), accounting, business management, business data processing, office technology, early childhood education, emergency medical services, and fire science. Special programs, such as radar observer, marine safety, and small business management, are offered as well. Also offered is a wide range of popular general interest courses.

MTC Training and Placement Services provides employers with the following services: processing of employment applications, assessment of applicants' skills, and training locations. Dislocated workers and economically disadvantaged workers enrolled in MTC's programs can be eligible for funded-training programs, and in some cases wages can be reimbursed. Employees also receive pre-employment training and services.

Tongue Point Job Corps Center is operated by MTC. This is a coeducational job-training program for young people, ages 16 to 24, from low-income backgrounds. The center has about 500 students and training programs include: Business, word processing, data entry, among other programs, and a full-time college program.

Utilities
Telecommunications

Construction of a telecommunications fiber ring and the electronics necessary to establish route diversity via fiber to and from the Portland metropolitan area was completed in September 2002. DSL (Digital Subscriber Line) equipment was installed at the same time. A mini-ring to serve the North Coast Business Park and other Warrenton businesses and residences with full route diversity within the city was completed shortly thereafter, as well.

Transportation

Clatsop County adopted its 20-year Transportation System Plan (TSP) in 2003. The TSP provides a comprehensive assessment of existing conditions and needed improvements and includes multi-modal plan elements to include highways, air, rail, transit and bicycle/pedestrian facilities.

Highways

Three major highways converge in Clatsop County: Highway 101 (Pacific Coast Scenic Byway), Highway 26, and Highway 30. The Interstate I-5 four-lane, north-south freeway is at Longview, Washington, about 50 minutes east of Astoria.

Public Transportation

Sunset Empire Transportation District - Clatsop County is served by the Sunset Empire Transportation District, which provides intra- and intercity transit service. Transit routes and schedules are established to best serve the needs of residents and employers. The Astoria-Warrenton area currently is served with nearly hourly transit service from 7:00 a.m. to 6:00 p.m. Monday through Saturday. The Sunset Empire Transportation District Executive Director has assured that the District would work with private employers to make sure transit needs are met and to determine whether employer tax credits, shared costs, etc. are appropriate. The District's new Intermodel Transit Facility is located at the corner of 9th and Marine in Astoria.

Air

Astoria Regional Airport - Located on 870 acres in Warrenton, the airport is four miles south of downtown Astoria. The facility has a 5,796-foot runway serviced by ILS and VOR and an additional 4,990-foot VFR runway. This enables the facility to handle air traffic under all weather conditions. Fixed-base operators with fuel and tie-downs spaces are available. Coast Guard Group Astoria Headquarters, Coast Guard Air Station is located at the airport. The airport is supported by a NWS - ASOS automated weather Station. There is no scheduled passenger service at this time. United Parcel Service has twice-daily service to and from the airport and Federal Express uses the airport as demand warrants.

Portland International Airport - Located approximately 96 miles from Astoria, the drive is just about an hour and 57 minutes from Astoria and about 90 minutes from the county line and is only 40 minutes by air from Astoria Regional Airport.

Rail

Rail service is available in Clatsop County. Portland & Western Railroad, Inc., owns the track that runs along the Columbia River between Portland and Tongue Point in east Astoria. The City of Astoria owns the line west of Tongue Point to the Port of Astoria. A $2 million federal grant was received last year for improvements to this line. Freight service is now open, and passenger service began in the summer of 2003.

Seaport

Port of Astoria - Clatsop County is bordered by the Columbia River on the north and the Pacific Ocean on the west. Located at Columbia River Mile 13 from the open sea and less than 10 minutes from either the North Coast Business Park or the Airport Industrial Park, the Port's facilities are the first on the Columbia River and include three piers with five deepwater ship berths and a barge ramp.

The Port of Astoria's 2005 schedule includes stopovers by 14 cruise ships.

Quality of Life
Recreation

Clatsop County is a major recreation center for the Pacific Northwest and the nation, well known for its history and the many recreational opportunities afforded by the ocean beaches, dense forests, mountains, rivers, and streams. Miles of broad beaches offer beachcombing, digging for razor clams, and quiet walks. The communities of Gearhart, Seaside, and Cannon Beach are major beach resorts, each with a special character. Charter fishing boats leave Warrenton and Hammond filled with sports anglers. Anglers also try their luck casting into the surf, from jetties or from the banks of rivers, lakes and streams. Hunters find both variety and challenge in the Coast Range forests and in the area's marshes and estuaries. Other outdoor enthusiasts enjoy state parks and waysides that provide ocean views, picnic sites, miles of hiking and bicycle trails, and overnight campgrounds. Boaters find suitable waters in Clatsop County for waterskiing, rowing, or sailing. And for golfers, there are four challenging courses. For the less active, Clatsop County is rich in historic lore and offers numerous activities and sites.

Climate

Clatsop County's climate is mild year-round. The mean temperature at Astoria ranges between 41 degrees F (5 degrees C) in January and 61 degrees F (16 degrees C) in August. There has been an average of one day each year with a temperature of over 90 degrees F (32 degrees C), and no days with temperatures below 0 degrees F (-17 C). There are usually one or two strong storms per year. The average wind speed is 8.5 miles per hour (13.7 km/hr). Normal precipitation at Astoria is about 70 inches (178 cm) per year, and generally more in the southern and inland parts of the county.

Community

Residents and visitors alike enjoy art galleries, museums, live theater, concerts and other special cultural events. The Columbia River Maritime Museum has recently completed a $6 million expansion. The Astoria Riverwalk and historic trolley, Fort Clatsop National Memorial, Fort Stevens State Park, the Seaside Community Center and swimming pool, and the Astoria Aquatics Center provide numerous opportunities for adults and scheduled activities for children.

Hospitals - Two hospitals serve Clatsop County: Columbia Memorial Hospital, located in Astoria, has 49 beds and 231 employees. It is designated as a Level II Trauma Center. Providence Seaside Hospital, located in Seaside, has 34 acute care beds, 22 extended care beds, and 188 employees. Both hospitals have 24-hour emergency rooms, helicopter landing pads, and a wide variety of services.

Schools -Talented teachers from around the country are attracted to the region. Clatsop Community College and five school districts are located in Clatsop County. Clatsop Community College has an enrollment of 6,000 students (full-time and part-time) and a faculty of 172.

Housing - Typical move-in costs are in the range of $500 for a two-bedroom apartment. According to the Clatsop County Association of Realtors®, MLS, Inc., database, in Clatsop County on November 6, 2003, 587 listings were found, including the following single family homes for sale: 15 priced under $100,000; 45 priced from $100,000 to $150,000; 38 priced from $150,000 to $200,000; 19 priced from $200,000 to $250,000; 24 priced from $250,000 to $350,000; and 57 priced above $350,000. The majority of those priced over $250,000 were in the oceanfront communities located in the southern portion of the county. The approximate average single family home "sold" price for 2003 was $193,000.

Taxes - Local government revenues are largely derived from a tax levied on real property. In 1997, voters approved Measure 50, which changed Oregon's tax system from levy-based to rate-based. It created fixed tax rates and limited assessed value growth to three percent a year, except for new construction.

A property tax limitation measure was approved by Oregon voters in 1990. This resulted in property taxes being limited to a total of $15.00 per $1,000 after the 1995-96 fiscal year. Property taxes to support schools were limited to a maximum rate of $5.00 per $1,000 of value; property taxes to support local governments other than schools were limited to $10.00 per $1,000. Special bonds may be approved for projects that cannot be funded under the limitation.

Oregon does not have a sales tax.